What are SIT files? Often created by StuffIt and popular with Mac/Apple users, SIT files are small, compressed files that are hard to open without the correct software. Fortunately, SIT files are among the 49 archive types that CompreXX can open without a problem! And if you need to create more SIT files, CompreXX is ideal for that, too. Easy to learn and straightforward to use, CompreXX simply makes archives as flexible to handle as folders in Explorer.

This is archive magic - with this SIT file tool, no separate program opens and there is no difficult interface to learn. You can use Explorer just as you normally do.

You can use Copy-Paste, Drag-Drop, or any other habits you may have to transparently compress or open SIT files inside your archives. Or, just click the hyperlinks in the XP-Style "Archive Tasks" pane, and choose from one of the many actions available there - Install, Check-Out, Anti-Virus, and many more.

One of our happy users said this about our SIT extractor and compression tool: "This program is working beautifully. I will definitely promote this to my customers. I liked the layout and features very much. The simplicity can be very handy for layman also. I tested the compression also. (...) Results were thrilling! " Read more testimonials about our SIT extractor here.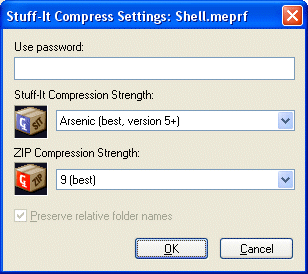 Creating a SIT archive is simple. Just pick the compression strength you want from the menu!