ZIP files are one of the most commonly used compression archive types, but despite their popularity they can be tricky to handle. Trying to compress several files from different directories into one single ZIP archive can be quite confusing, and if you receive a ZIP file by email it is often difficult to know exactly where it is stored and how to open it. Users are often bewildered by various "extract" options when all they want to do is view the file!
CompreXX is the only unzip program that lets the user handle ZIP files without having to worry about how to extract the files, how the unzip process works, or any of the other complexities commonly associated with unzip utilities. CompreXX provides all the functionality that the other applications offer, but it is far more user-friendly. This unzip program handles all the difficult issues for the user behind the scenes, allowing the user to take advantage of ZIP files without having to deal with any of the technicalities. Essentially, CompreXX makes ZIP archives behave just like folders in Explorer.

This is archive magic - with this unzip utility, no separate program opens and there is no difficult interface to learn. You can use Explorer just as you normally do.

You can use Copy-Paste, Drag-Drop, or any other habits you may have to transparently compress or open ZIP files inside your archives. Or, just click the hyperlinks in the XP-Style "Archive Tasks" pane, and choose from one of the many actions available there - Install, Check-Out, Anti-Virus, and many more.

One of our satisfied customers said this about our unzip program and compression tool: "CompreXX is the best and at this moment the most reliable new archiver! I will change my WinZip to your much more flexible program." Read more testimonials about our unzip utility here.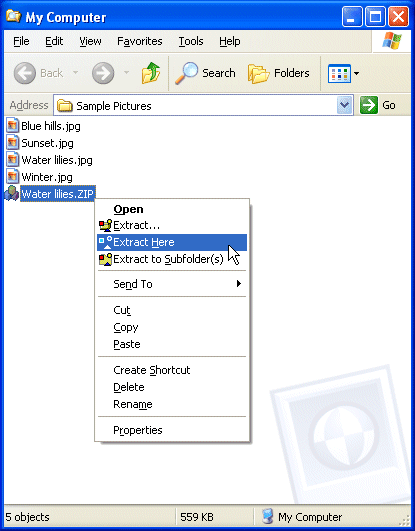 Opening and extracting ZIP files is simple. Just pick the option you want from the menu!